Something exciting is about to happen! You are searching for the most important feature of your Tiny House to be. The cornerstone. The Foundation. The Trailer. What should you be looking for in a trailer that is about to carry your home? I recently purchased a tiny house trailer and this is a summary of all the items I considered.
Tiny House Trailer Features
There are features of trailers, some of which are important to have, and others that are important to not have if the trailer is to be used for building a house on. The trailer you plan to build on should be defined with an appropriate GWVR (Gross Weight Vehicle Rating), equipped with heavy duty axles, high load radial tires, emergency brakes, running lights, dual chains, steel beams and flange, and a flat deck. It shouldn't have any extra rails unless you incorporate them into the design and it definitely won't help having a ramp or tilt feature. A trailer specifically designed for a tiny house, by a company that is knowledgeable of tiny houses, handles all this.
New vs. Used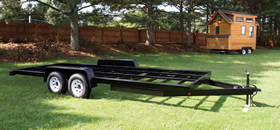 You can buy a custom tiny house trailer OR restore a used trailer. It's a DIY revolution! However, when I looked at used trailers, I found that most required changes that aren't so cost or time effective. Try searching google or social media sites for previous experiences. You will find warnings and even tragic posts from tiny house DIY'ers who discourage others from repeating their mistake...using RV, rusted, poorly welded, and even just lightweight utility trailers. Sure, circumstances related to budget, time, skills, and energy might still have us searching craigslist OR it might send us clicking on a custom Tiny House trailer URL. Like the saying goes, "Why reinvent the wheel?" Is that a pun? To quick start your build safely and efficiently, a custom trailer is what's up. After all, investing intelligently in the foundation will keep your tiny home in it for the long haul! (pun!)
Tiny House Trailer Type
With tiny house trailer and regular trailers, there are different types depending on what you need. Here are the most common:
Gooseneck
If you've ever seen the MiniMotives home, you've seen a tiny home built on a gooseneck trailer. It's a great option for a platform bedroom without having to climb into a loft.
A gooseneck trailer is a type of trailer that is designed to be towed by a pickup truck or other heavy-duty vehicle. It is characterized by a "gooseneck" hitch, which is a ball and socket joint that attaches the trailer to the truck. The gooseneck hitch is located in the bed of the truck, rather than at the bumper, which allows for a more stable and secure connection between the two vehicles.
Gooseneck trailers are typically larger and more heavy-duty than other types of trailers, and are often used for hauling large loads such as livestock, construction equipment, or boats. They are also used for horse trailers, as they offer increased stability and safety for the animals during transport.
The main advantage of a gooseneck trailer is its stability and safety during transport due to the location of the hitch, which allows for a more evenly distributed weight and better towing performance. Gooseneck trailers are also typically more versatile than other types of trailers, allowing them to be used for a wide variety of hauling tasks.
However, gooseneck trailers are often more expensive to purchase and maintain than other types of trailers, and they typically require a larger and more powerful vehicle to tow them. Additionally, they can be harder to maneuver and park due to their size and design.
Deckovers
Deckover trailers have, wait for it..., a deck over the wheels. You won't have to worry about a strategic layout of cabinets over wheel wells, but you will lose about 12" of headroom due to maximum height restrictions. This is a deal breaker for most. Also, if you go this route make sure it does not tilt, another feature common to deckovers.
Bumper Pull
Bumper Pull trailers are the most common style trailer for tiny houses and the style we chose. We didn't want the size of the gooseneck and we needed the interior height so a deckover was out. This is easy to tow and build on.
Tiny House Size
Size matters. Not only will you have to consider the space and layout for your needs, but also a few other factors. Specifically, more length means more square feet of materials. More materials means more labor, time, and weight. More weight means you will need a heavy duty towing vehicle. A length over 24 ft will require additional axles and tires. If you plan on traveling with your tiny house, your toll rate will increase per axle. Cha-Ching! Finally, you'll want to consider the impact length will have on where you can park your house. This is not to discourage you from buying bigger. No way! Tiny doesn't have to be so tiny at all. It is just to help guide you to the best decision for YOU. Overall, if you plan to stay settled in one place for a long period of time, a larger trailer will work out. If you plan on traveling, living incognito, and/or living urban, the smaller the better.
The Good, The Bad, and the Ugly
Used Trailer
| Pros + | Cons - |
| --- | --- |
| Spend within your budget. Pay for improvements as you go. | weld reinforcements |
| search within distance | saw off extra rails |
| choice of 5th wheel, deckover, utility | sand off rust, paint |
| | more wear and tear |
| | possible tire/axle replacement |
| | strip off decking |
| | No VIN/ tougher DMV process: temporary plate, inspection upon registering as handmade trailer |
New Trailer (manufacturer or non-custom trailer company)
| Pros + | Cons - |
| --- | --- |
| GVWR (weight it can carry) is defined. | must provide plans to manufacturer to get special customizations. |
| No wear and tear | Expensive |
| | less knowledge of appropriate specifications for Tiny Houses |
Custom Tiny House Trailer
| Pros + | Cons - |
| --- | --- |
| fully licensed VIN*** | Pick up can be distant |
| Can register as camper van vs. homemade*** | Choosing between Tiny House companies |
| 1 Year Warranty on axles *** | |
| Steel Flange for attaching tiny house*** | |
| Minimally curved fenders for easier sheathing/siding*** | |
| Heavy duty axles | |
| No wear and tear | |
| Delivery Option | |
| Customer support specializing in tiny houses *** | |
| Costs as much (or even less) as a new non- custom trailer*** | |
| bragging rights? | |
*** special and unique feature of Tiny Home Builders compared to other brands.
Can you guess which trailer I chose? :) Before I even started contributing to Tiny Home Builders, I purchased one of their trailers (pictured above). It was very economical and high quality. Naturally, we tiny house people, are always looking for the best value! The biggest difference I noticed with this company was how much expertise and honest advice the owner supplied before even purchasing. I could tell if I had any questions, I would get an answer from the tiny guy rather than corporate. As a result, came this shiny, 20 ft. custom trailer with drop axles. Here are some resources that might help you in your quest, too. Trailer 101 Learn all about the terminology of what makes up a tiny house trailer, the special features of a custom trailer, and pickup and delivery details. Customize and Price your Trailer Get an instant quote on custom lengths up to 32 ft, axles, deck widths, number of axles, and pickup/delivery. Take a video tour! Must See! Dan will lead you around the trailer and tell you what to look for in a custom trailer. Seeing this video really was the deciding factor in my own search. What type of Tiny Home Trailer do you want? Let me know in the comments below.
Published on 3/20/2023. Published in Tiny House Research, and Tiny House Trailers & Towing.